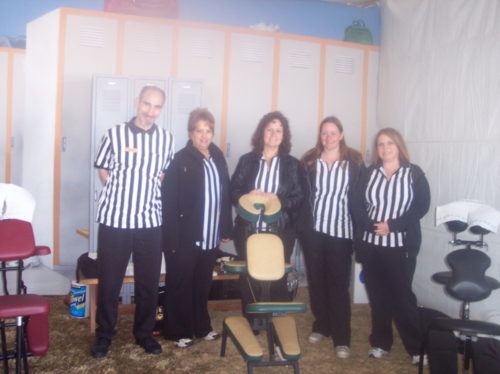 Licensed massage therapists for Onsite massage for events Los Angeles.  Corporate Chair Massage for onsite massage for events Los Angeles.  Mobile manicures Los Angeles.
Onsite Massage for Events Los Angeles
is perfect for attracting customers to your corporate event, party, trade show booth, or conference. Onsite massage for events will draw more potential clients to your booth. Not many people can turn down a free chair massage. And in their relaxed state they will be less likely to hurry away, and more likely to listen and become a regular customer.
People will walk away with a positive, relaxed feeling after having a corporate chair massage which is likely to stay with them for a long time after, making them remember the experience and your product!
Onsite Massage for Events Los Angeles
has the knowledge and expertise to make your event the highlight of the year.  Don't have time to plan out or search for mobile massage therapists?  We handle it all for you, all it takes is one phone call and Onsite massage for events Los Angeles will do the rest for you!
We hand pick our mobile massage therapists for their expertise, professionalism, and skills.  Our corporate chair massage therapists are the very best in the field.  Please see our sister company for testimonials. (We are taking over the Los Angeles County area)
Corporate Event Nail Services for the Ladies
Are you putting on a corporate event or party for ladies?  We have the perfect solution.  We have licensed nail technicians that can do mini manicures  at events. The ladies will absolutely love this option!  Our mobile nail technicians bring all their own supplies, and tons of polishes, and  they sanitize right in front of the client.  The ladies absolutely love our mobile manicures! Making an excellent spa party if you would like.
We are open 7 days a week from 9am-10pm.  Possibly later depending on your needs.  Onsite Massage for Events Los Angeles requires a one hour non-refundable deposit at the time of booking and has a 72 hour cancellation policy.  We accept all major credit cards or company checks.
Call Mobile Massage Los Angeles for an appointment at 213-373-1132 or email us!
We provide mobie massage and mobile manicure services to all of Los Angeles County, California including Hollywood, Downtown Los Angeles, Burbank, Studio City, Hermosa Beach, Beverly Hills, Malibu Beach, Lakewood, Calabasis, and more!