Licensed nail technicians for mobile manicures.  Mobile manicures in home, at hotel room, business event or spa party Los Angeles County, Beverly Hills CA
Mobile Manicures At Your Location
Mobile Manicures are provided by our licensed staff at your location.  Don't go to the cheap nail salons, we offer luxury nails, by English speaking staff only.  There is nothing worse then going to a nail salon and having them speak a different language the whole time you are there!  And then having to wondering if their tools is clean.  We sanitize all the tools right in front of you.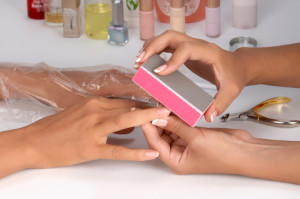 Mobile Manicures at Spa Parties, and Corporate Events
You want a manicure, but don't want to go anywhere, or too busy to get out?  Maybe you have young children.  Our Mobile Manicures come to you with all the supplies including nail polish, tools and sanitizing supplies.  We have the staff to handle large spa parties, corporate events and groups.  Your clients, customers and friends will absolutely love it!
Looking for something fun to do at your party?  Mobile manicures can be slit into mini manicure half hour sessions, although we do have a one-hour minimum per technician.  Mini manicures can be great fun for in home spa parties and they are very inexpensive.
Mobile Manicures Perfect for the Home Bound
Maybe you can't get out due to illness or physical limitations.  We come to you so you don't have to drive anywhere! Our mobile manicures service is perfect for those who are home bound, in the hospital, assisted living or nursing home.  It is for sure to lighten and brighten the mood.
We offer gel manicures in home, as well as shellac, or just natural manicures.  Our mobile staff does designs or whatever you would like in the comfort of your home!
You may also add on a mobile pedicure, mobile facial, mobile massage, or reflexology for an additional charge.  We do it all!
Call today for your in home manicure 602-448-6836.  If you have questions click here to email us!