We provide spa services at your spa parties!  Spa parties are great for birthday parties, bachelorette parties, baby showers, and get togethers with friends! Massage, nails and facials
Spa parties are so much fun!!!
Spa parties can be done in a home, hotel, business, and poolside, in a clubhouse.  They don't take up much room.  We can set up virtually anywhere you would like for spa parties.  Whatever the occasion whether its a birthday, reunion, wedding, girls get together, slumber party, baby shower, bachelorette party, or just a  fun get together, spa parties are great fun!
Licensed staff for all your spa party needs!
Mobile Massage Los Angeles has plenty of licensed technicians for all your spa party needs.  We have licensed nail technicians, licensed estheticians and licensed massage therapists with many years of experience. They are experts in relaxation.
We provide onsite, in home spa services for individuals, couples, groups and corporate events.  Choose from many of our onsite spa services or combine several treatments for spa parties or events!
Spa parties can be split up any way you like!
Our mobile manicures and pedicures can be made into mini 30-minute manicures or pedicures.  We also have half hour facials, massages, and chair massages.  There is only a one-hour minimum per technician, and your services can be split up any way you would like.  We can send as many technicians for your spa parties as you would like.
Depending on your services, Mobile Massage Los Angeles brings all the equipment and tools necessary such as:  foot baths, files, nail polishes to choose from, skin care product, massage tables and massage chairs and all the sanitation supplies needed to make it a clean healthy experience.
Spa parties for corporate events or businesses
Mobile Massage Los Angeles also can provide nail services for corporate events and businesses.  Show your clients or employees how much you appreciate them with a mini manicure of mini pedicure.  The girls absolutely love the pampering experience!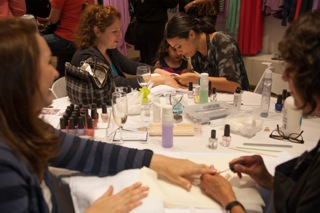 Easy to schedule your spa parties!  Call Today!
Spa parties are great fun for all and very easy to organize.  When scheduling your spa party have the number of people who are going to need services, the date of the event and any special requirements you may need.  For all spa parties, we require a one-hour non-refundable deposit that can be used towards the first hour of service.  Mobile Massage Los Angeles does it all for you with just a couple of phone calls.
Call To Schedule Your Spa Party today 
602-448-6836
click here to email us