Providing on site corporate chair massage services to Los Angeles County.  Show staff you appreciate them with corporate chair massage! Trust the experts!
Corporate Chair Massage
Mobile Massage Los Angeles can schedule onsite corporate chair massage service for corporate events, meetings, company parties, employee appreciation days, training sessions, and company picnics.  Onsite corporate chair massage works well in a corporate environment where the clients need to remain fully clothed.
Corporate Chair Massage Sessions
Chair massages can be in 10-30 minute sessions.  With only a one-hour minimum per therapist it is perfect for small or big companies.  We have a large staff of male and female licensed and insured massage therapists available for your every need.  We have been known to be able to have 4-5 therapists at a company at one time, no problem.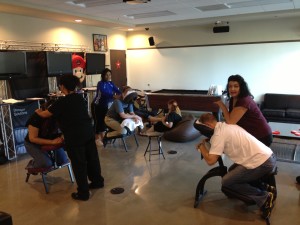 The chair massage therapists bring seated massage chairs that are small and can fit in any corner of a conference room or break room.  Seated chair massage is perfect for a company party, during lunch, or during the workday.
Corporate chair massage is the perfect inexpensive way to reward your staff and show them you appreciate them.  It can also be used an employee incentives and rewards.
We also have foot massage, hand massage, mobile manicures, mobile pedicures available for your business please BOOK NOW
Onsite Massage Scheduling
Can sometimes be scheduled the same day, but advanced notice is recommended.  The sessions can be paid for by management or by the employees.  We require a one-hour non-refundable deposit at the time of booking.  We then write a contract, and send out sign in sheets for your staff.  We organize the whole event, so you don't have to!
We take care of everything so you don't have to!!!
We Organize the Whole Event!  A few quick easy phone calls does it all!  Once you decide to book the corporate chair massage, we require a one-hour non-refundable deposit to be used towards the 1st hour of service.  After we get that, we write up a contract, invoice and sign in sheets for the staff.  That way you don't have to do a thing, leave that to us!
Call

602-448-6836

to schedule your corporate chair massage today!  Prices vary depending on time and needs.  To email us click here.